MJPT Pre-insulated Sleeves MJPT series
Product Detail
Product Tags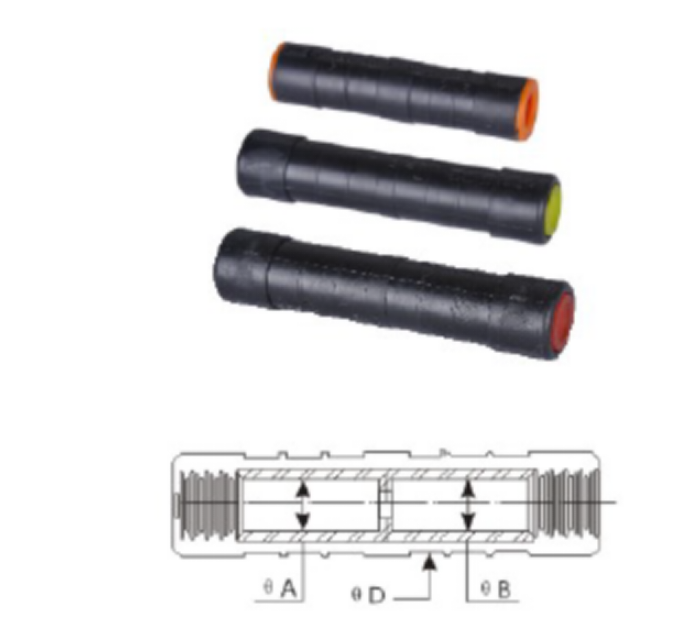 The pre-insulated sleeve is composed of:An aluminum sleeve with a stop in the middle.A black thermoplastic sealed with a flexible elastomer ring. A neutral contact grease in the tube which improve the contact area and protect the aluminum against oxydation.
The crimping is realized on the plastic part according to the marks on the body of the sleeve.
These pre-insulated sleeves MJPB and MJPT type are used to link or repaire LV overhead connection.
MJPT sleeves withstand the tests described in the French standard NFC 33021.
They are water resistant .The mechanical resistant is 50% of the cable breaking load. A color code permits to check quickly the cable sizes.
Item No.

Cross Section(mm2)

Dimensions (mm)

Color Code

Crimping Die

ΦA

ΦB

ΦD

MJPT16

16

5.5

5.5

20

Blue

E173

MJPT25

25

6.5

6.5

20

Orange

E173

MJPT35

35

8

8

20

Red

E173

MJPT35-25

35-25

8

6.5

-

Red/Orange

E173

MJPT50

50

9

9

20

Yellow

E173

MJPT50-35

50-35

9

9

20

Yellow/Red

E173

MJPT70

70

10.5

10.5

20

White

E173

MJPT70-35

70-35

10.5

8

20

White/Red

E173

MJPT70-50

70-50

10.5

9

20

White/Yellow

E173

MJPT95

95

12.2

12.2

20

Grey

E173

MJPT95-35

95-35

12.2

8

20

Grey/Red

E173

MJPT95-50

95-50

12.2

9

20

Grey/Yellow

E173

MJPT120D25

120

14.2

14.2

25

Pink

E215

MJPT150

150

15.5

15.5

25

Violet

E215

MJPT150-70

150-70

15.5

10.5

25

Violet/White

E215

MJPT150-95D25

150-95

-

-

-

Violet/Grey

E215

MJPT150-120D25

150-120

-

-

-

Violet/Pink

E215
Yongjiu Electric Power Fitting Co., Ltd is located in Yueqing City, Zhejiang province, Our company was established in 1989, and we have work in the field of transmission line products with 31 years of production experience. We started the export business since 2008, and so far our products have been sold to more than 70 countries from Southeast Asia, Middle East, Russia, Europe, Africa and Latin America. The quality of products received customer praise, received. Our company is China's national power grid, China Southern Power Grid and China's five major power generation group tendering and bidding cooperation units, the establishment of the company has won the provincial high-tech enterprises, provincial AAA-grade credit enterprises, provincial famous products, provincial AAA grade overlap. With the credit unit, provincial key promotion enterprises and many other honorary titles, is the first industry through the environmental asessment qualifications of enterprises. The company has passed the certification of ISO9001 quality system, ISO14001 environment system and OHSASI 8001 occupational health and safety management system. The products are produced strictly by national standard and international certification standard (NF C, EN, IEC). Yongjiu Electric Power Fitting Co.,Ltd. is specialized in the R&D, production and marketing of cable lug& cable connector, line fitting, (Copper, aluminium and iron), cable accessory,  plastic products, lightning arrester and insulator with approved quality complying with ISO9001.
Focusing attention on innovation, our company has successfully developed hundreds of products.
With internationally advanced machinery processing facilities and experienced engineer team, Yongjiu is capable of producing various product and providing custom services to meet regional standards in different countries. Yongjiu Electric Power Fitting Co.,Ltd. is customer focused and specialized in providing the most suitable solutions based on different requirement from each market.
---
---
---
Write your message here and send it to us